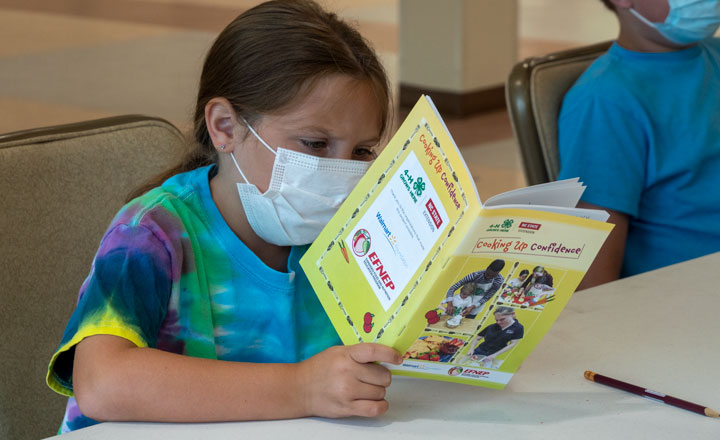 Teacher
Virtual/In Person
Cloverville Detective Agency Mysteries
Intruders. Explosions. Spies. Ghosts.
Cloverville may be a small town, but it holds some big secrets. Join the Cloverville Detective Agency and get to the bottom of such strange goings-on. Can you help the citizens of Cloverville figure out what is happening?
In this program, participants will sink their teeth into STEM to learn about food safety, food chemistry, and food production. As they unlock each new challenge and locate clues to unravel each mystery, participants will conduct hands-on experiments, prepare recipes, interview suspects, and test their sleuthing skills.
Age range: 10-14*
Grade level: 4-8
Time: 60+ minutes each**
* The suggested age range corresponds to the approximate independent reading level of the mysteries. Younger children can also complete these activities with proper support, such as having older youth volunteers act out the scenarios, using the mysteries with family or cross-age groupings, or adjusting the science content.
**Originally developed for online use with families during the 2021 North Carolina Science Festival, the materials can easily be adapted for in-person, hybrid, or remote environments. Each of the four mysteries can be used on its own for short programs or as a set for a longer program. Length may vary depending on implementation choices (e.g., readers' theatre versus silent or paired reading) and any extension activities.
This activity utilizes the Cooking Up Confidence! Cookbook by NC 4-H.
The North Carolina 4-H Curricula are subject to copyright and cannot be used or distributed without North Carolina 4-H's permission. However, the 4-H Curricula can be used for free when working with your local Cooperative Extension office.
If you see a 4-H curriculum that would benefit your classroom, reach out to your local 4-H Agent. Your 4-H agent can work with you to understand how to best use 4-H curriculum, and to get involved locally with additional 4-H education programming.
Cookbooks are available for purchase through UNC Press and Amazon.